The Art & Universe
Nick Japaridze (Geo. ნიკა ჯაფარიძე) was born February 23, 1971 in Tbilisi, Georgia. Starting 1985 he paints and until 1985 learns from the best fine art artists of Georgia while working in the best fine art studios. From 1989 until 1994 he studies fine art in Tbilisi State Academy which he later successfully graduated from.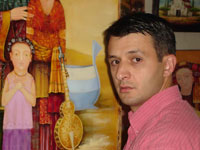 Nick's work is distinguished from other by its themes, unlimited fantasy, high performance and professionalism. The artists conveys his emotions, moods, state of the heart and dreams via symbolic language seen in his paintings. The overall gamma of works, characters and even minor, from a first sight, details are all carry symbolic meaning. The artists explains that all the characters: whether it's a king, a philosopher, a child, a jester or a musician are all depiction of his varying from day to day soul transparent to the canvas. Nick's works can be described as unearthly, tale like and mystique creation regarded by the artist himself as a surreal and symbolic one.
The artist gets inspired from listening to special meditation music while working. Nick's work is a combination of Georgian traditional murals, Asian décor and Mid Ages fine art technique. This technique utilizes multi layers oil brush strokes where the main stroke is being adjusted above by additional very subtle glazing layers. This takes a lot of time and effort however as a result of it the painting acquires a beautiful and colorful flare. Starting 1990 until today Nick participates in various art expos in Georgia, Russia, Italy and Germany. His work can be found in many private collections all over the world.
Group Exhibitions

2011 - SINGLETON-BISS museum of fine art Santa Fe NM, USA
2010 - "Masters Gallery" Greenwood Village, USA
2009 - Gallery "Zuger" Santa Fe NM, USA
2008 - GEORGIAN ART SHOW, London
Art-space galleries, Pushkinhouse London, England
MOCA Museum of Contemporary Art, Hot Springs, AR, USA
2007 - Gallery "Zuger" Santa Fe NM, USA
Tbilisi gallery "Universe"
2006 -"The new generation in contemporary georgian" gallery Kopola" Tbilisi
2002/05 - Gallery "Universe" Tbilisi, Prague
2001 - Tbilisi, Moscow
2000 - Gallery "Hobby" Tbilisi
1999 - Gallery "Hobby" Tbilisi, Frankfurt
1997 - Gallery "Hobby" Tbilisi, Munich
1996 - "Alter Ego",Gallery "karvasla", Gallery "Hobby" Tbilisi
1995 - Munich,ST. Petersburg, Tbilisi,
1994 - Rome, Brindizi, Moscow,Tbilisi
1993 - Tbilisi, Moscow
1992 - "Mostra antolologica di pittori georgiani" Rome, Brindizi, "Hammer Center " Moscow, Tbilisi
1991 - Central artist house Tbilisi, "Hammer Center" Moscow
1990 - Central artist house Tbilisi, Kiev
1990 - Art gallery "Merani" Tbilisi, Georgia

Personal Exhibitions

1995 - Business Center Tbilisi, Georgia
1990 - Art gallery "Merani" Tbilisi, Georgia